One platform. Unlimited possibilities.
Make is a highly visual platform that lets you design, build, and automate anything in minutes — from simple tasks to complex workflows. It's fast and easy to use, visually intuitive, and requires zero coding expertise.
With Make you can build multi-step workflows between SugarCRM and thousands of apps like Airtable, Monday.com, Asana, Twilio, LinkedIn, Aircall, Mailchimp, Zendesk, Docusign, Quickbooks and many, many more.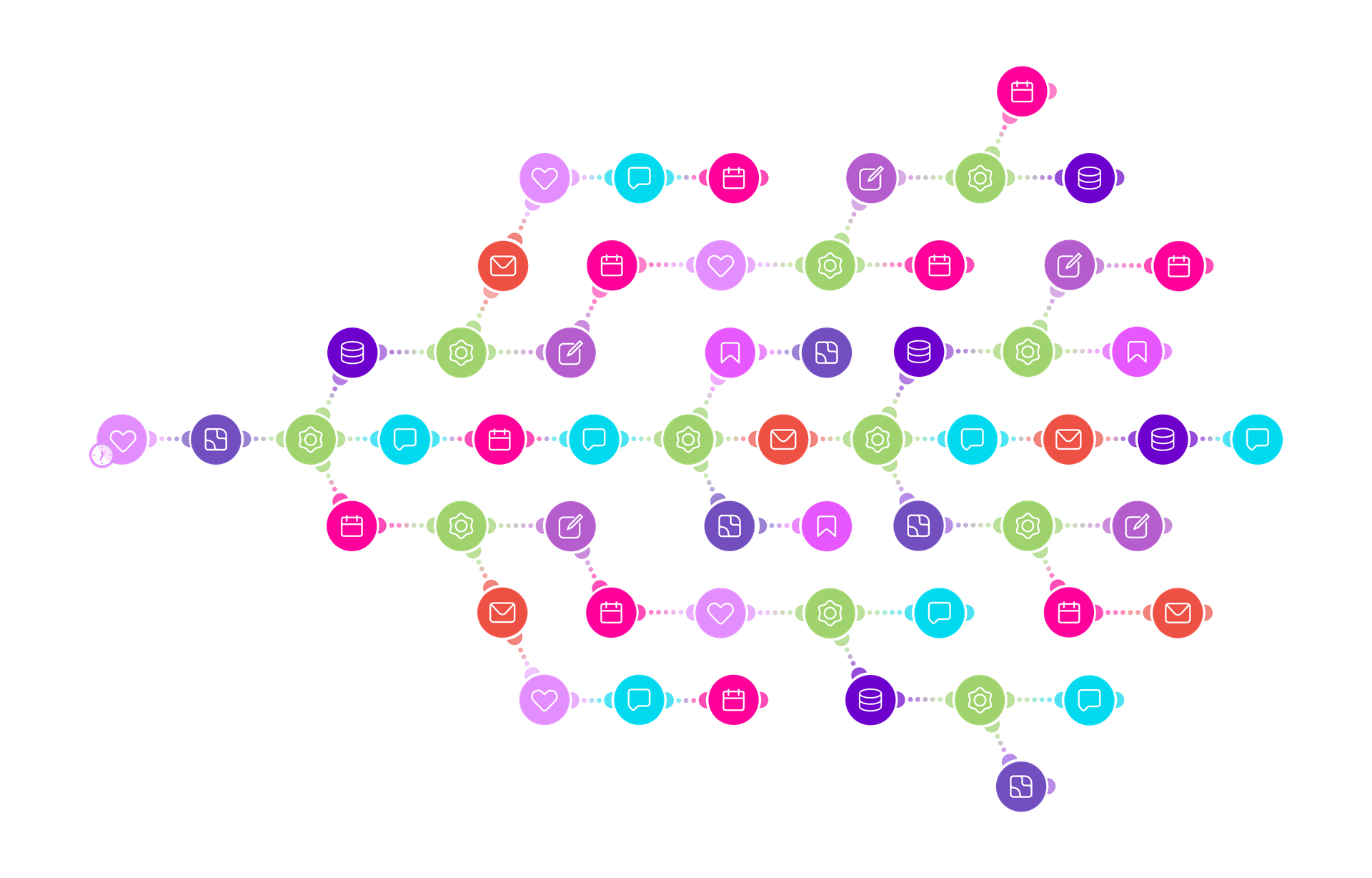 Connect Sugar Sell, Sugar Market, Sugar Serve and Sugar Enterprise with any app or service
Do more with Sugar Sell, Sugar Market, Sugar Serve or Sugar Enterprise.
Make lets you connect SugarCRM with 1400+ popular apps in just a few clicks, without any coding.
Missing an app in our library? Use Make's no-code toolkit, which includes the generic HTTP app that allows you to connect Sugar to any app or service with an API.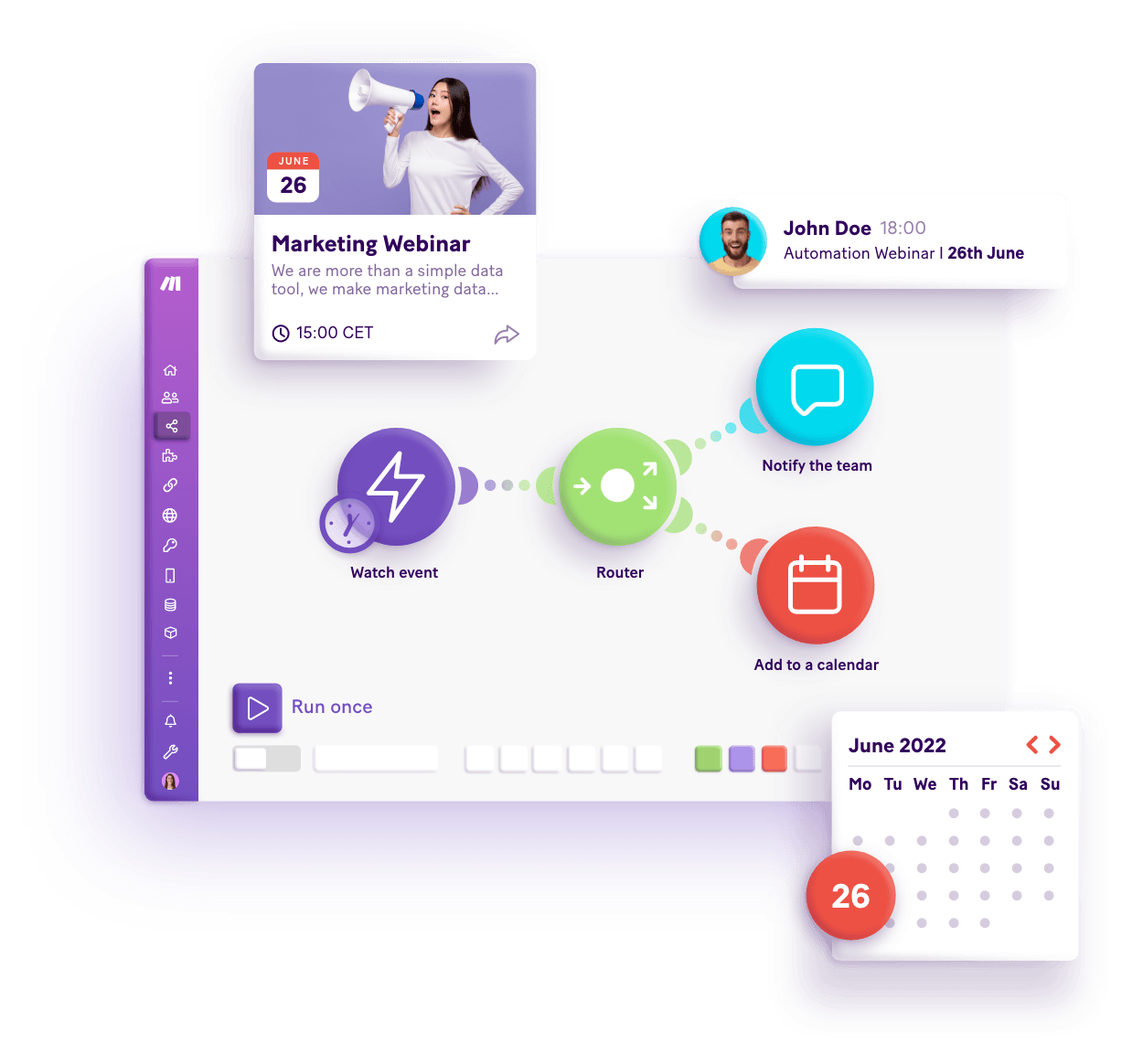 Visualize the workflows you create
Make allows you to visually create, build, and automate workflows. Use the playful drag-and-drop interface to connect apps in a few clicks, and build limitless workflows called scenarios. Set your scenarios to run instantly or per schedule, or watch the scenario run in real time whenever you need.
Create without limits
Make lets you build as if you were a developer, without writing any code.
Build faster than ever
With Make, it's fast and easy to create, test and edit workflows.
Reduce your time to deployment by 5x.
Debug your workflow in real time to identify and solve errors, rather than searching through lines of code
Get rid of the manual work and focus on innovating
Choose a SugarCRM template to help you get started or build your own from scratch.
Make empowers creators across all business areas, sizes, and backgrounds to build solutions to workplace challenges. It's never too late to start.
Here are some great ways to use SugarCRM with Make
Synchronize SugarCRM with 3rd-party ERP and billing and payment systems. Ensure your data matches and is up-to-date across all platforms.
Enrich your sales pipeline data with 3rd-party data providers and allow your sales team to save time and manual effort
Automatically engage with your leads over your and their preferred communication channels (social media, email, SMS, etc.)
Create new leads directly from another system (web forms, spreadsheet, SMS, email etc.)
Automatically add new e-commerce accounts and contacts from systems like Shopify, WooCommerce and more
What our Customers say
"Make drives unprecedented efficiency within our business in ways we never imagined. It's like having an extra employee (or 10) for a fraction of the cost." - Cayden Phipps, COO at Shop Accelerator Martech
"The simplicity, flexibility and ability to build real complex automations without any knowledge of programming makes it the best thing since sliced bread." - Erkki Markus, Product Owner at Smaily
Resources
Learn more about connecting SugarCRM with Make here.
Other Add-Ons of interest